You built it. You're proud of it. Show pictures and tell us more!
I made a spice rack to hold my ceramic spice jars. I didn't want them to be hidden by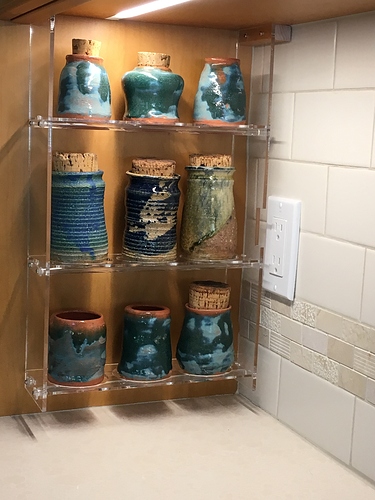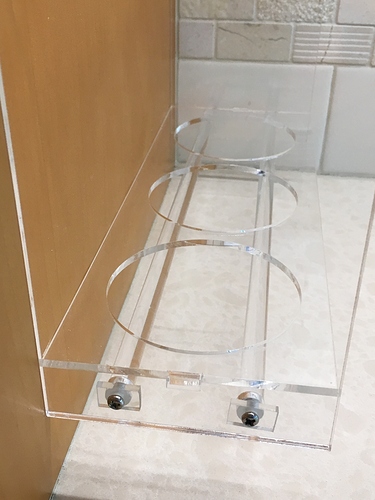 wood shelves, so I used the laser to make acrylic shelves. The unit is attached to the underside of the upper cabinets in my kitchen. Each shelf has two acrylic rods on which three jars sit, plus a "guide shelf" with three holes to keep the jars from jiggling off the rods. Marty BlakeJacobson
This is really cool and ingenious. Great job, Marty! I agree that the ceramic jars deserve all the attention.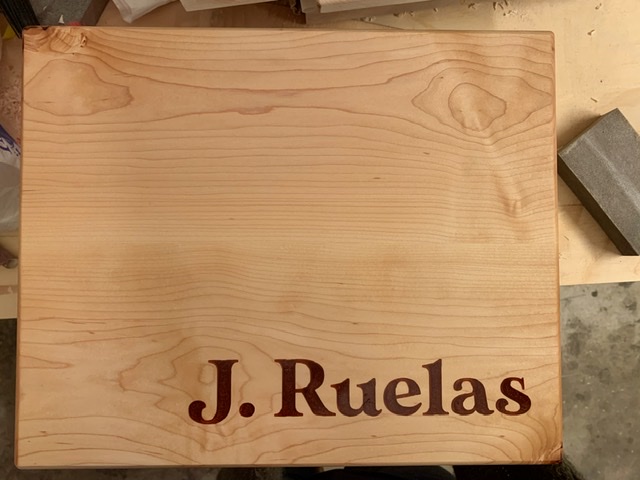 I did my first resin pour over the weekend. I made this cutting board for my uncle, Joel. I may sand it or buff it, or do something to make the text really pop and shimmer. It's hard to tell but the resin is kind of shimmery.
The other side of the board, the cutting side, has a juice groove.
Aside, how many people in your life have received hand made gifts from you?

So what we're your steps to this point with the resin? Pour, scrape, sand down to 400 grit? I'm curious because the final finish of the lettering looks so good.
Thanks, Travis. You've got the steps right, except I sanded up to 800. I want the resin to get really glossy, but I think I need to sand up to a lot higher grit and buff it out? Not sure…I'm sure I'll find something on Youtube

Let us know … or better still, some expert like Doug or Gary could weigh in. (hint!)
Looks nice. I want to try and do some resin work in the future. I will post some Star Wars Coasters I cut on the laser that are just waiting for some resin to make them solid coasters.
Very nice and looks so clean. Did you thread the acrylic rods to put screws into them? Hard to tell by the picture how the rods are held in place.
You should touch base with Cassiano, as he too made Star Wars Coasters and used resin to give them a really great look. I'll see if he's been invited to join us here.
The rods fit into holes in the sides. Each rod end is flush with the outside of the side. The screw and the extra acrylic rectangle keep the rod in position. I drilled a hole into each rod end, big enough for the screw to fit and small enough to hold; the hole is not threaded. I could have used screws with a big head and skipped the extra acrylic rectangle, but it showed too much metal.
Love that attention to detail.
Really nice!!! Such a great way to have rack with the focus on the contents verses the shelf.