My wife and I were recently watching a movie when we saw a Christmas decoration that we liked: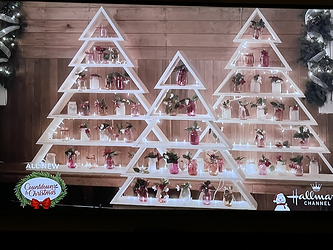 We wanted one, so I went to work on scale drawings to infer the dimensions and angles needed and to figure out the joinery. I settled on a 58° angle on the sides, shelves 8" tall and 7" deep, and seven tiers for a total height of 56". The bottom shelf is 51" long and each side tucks in 2" from the end of the shelf above it.
I made it out of poplar, and, since the grain was nice, I decided to try some green stain rather than just to paint it white, and then coated it with polyurethane. We figured if we didn't like the color, I could always paint over it. Turns out we love the green!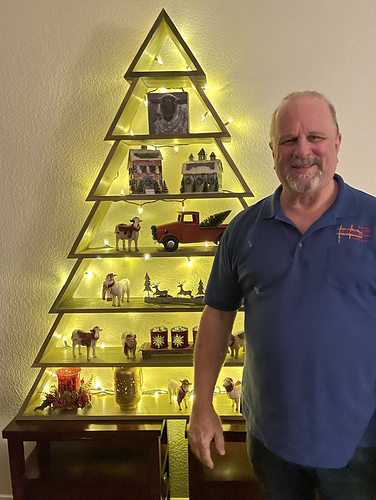 During the design phase I thought about how to store this decoration in the off season. So, it is made up with each tier a separate piece. To store it I can break it down into 7 shelves that nest inside each other. The joinery is designed to make very strong glue joints within each tier and also a strong friction joint between each tier using mortises and angled tenons: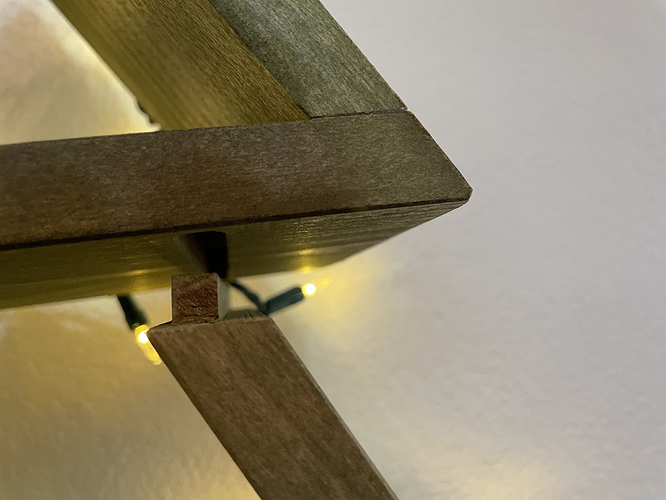 I made a jig to cut all of the mortises on the CNC, but decided to make a custom tenoning jig and cut the tenons on the table saw with a dado blade. After it was all said and done, I can now imagine a jig for the front of my CNC that could have allowed me to cut the tenons there as well.
I attached 3M Command Clips to the back to hold the lighting so I can easily remove it when I need to break it down.
Fun project with some thought-provoking challenges!
-e