I am helping my son-in-law repair his mother's house and clean out the garage. WAY TOO MUCH STUFF is going in the trash. Rescued this particular item and did some cleanup. What is it? Stanley identified it in the first e-mail and I found several on eBay for sale in the $80-$90 range. A Stanley #30 Angle Divider from the mid-1950s. They no longer had the instructions for it and the brief narrative provided the usage clues. Before you ask, NOT FOR SALE. This photo is after some clean-up of the Angle Divider. It sat in a box that was flood damaged and ignored for a long time.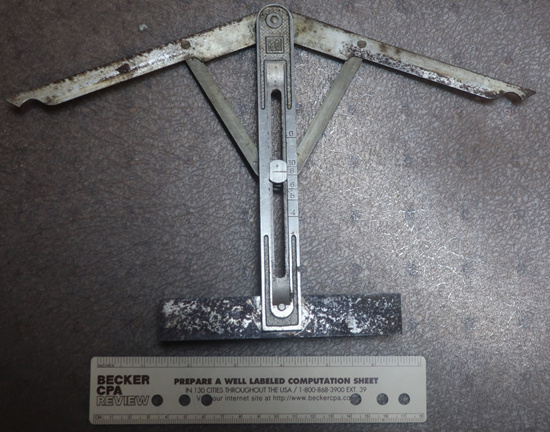 The flip side. The indexing or reference bar is removable and "losable" held on by a shouldered thumb screw.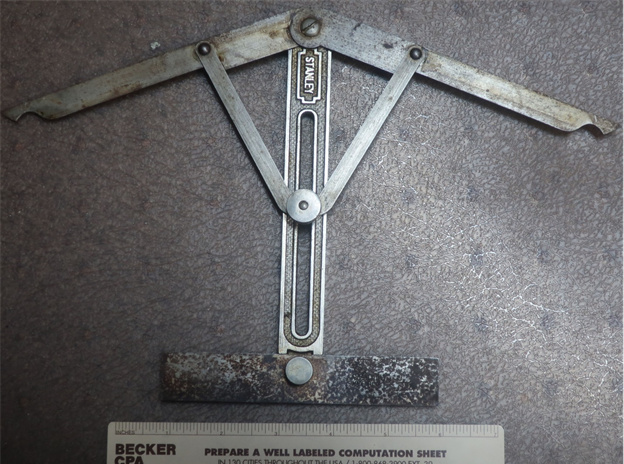 With the "arms" stowed, it does travel kind of nicely. Note that little line on the slide nut, it plays a role.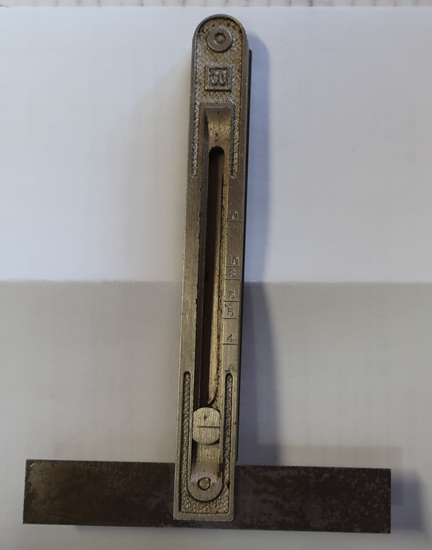 That slide nut indexing mark is set to "4" and the result is really close to a 90º angle of the legs. Or, a 45º angle from either leg to the main, vertical bar. Now you can mark, and hand cut that nice 45º for a picture frame. I checked it with my (true) square and my electronic angle finder as well. Close, 89.2º on one attempt, reset it and got just over 90º. Did not get it to exactly 90º out of several tries. Remember, you are hand cutting this angle so how close are you going to be?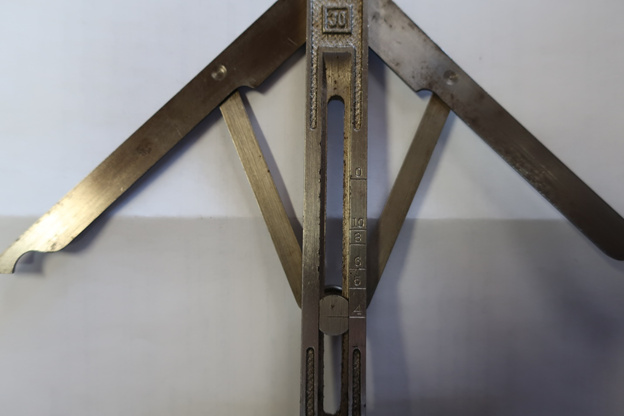 Now set for 10 sides, and it measures out to 147º and it should be 144º. Again, pretty close but not close enough. The way I would figure to use it is associated with things my Dad had in his shop. We had stock cut at exact angles and labeled in numerous identities – "4 sided box, 90º corner, 45º cut." I think I would take this Angle Divider over to one of those pieces, square it up, and lock it in. Close, when making a 10 sided box is 144.000001º off is 144.000002º because the error compounds itself with the number of sides.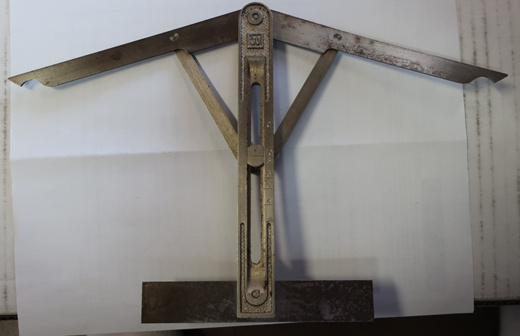 And we have a number of tools that we have yet to figure out. And they are staying there. This one was donated to me for efforts made. (And it will became my Granddaughter's in time so she will get one tool that was both her paternal and maternal grandfathers' tools.)
Princess Lilli the Bean of Candyland was not yet three and was helping fix some furniture. Now at 5 ½ all sorts of fun and abilities.