Attached is a Lightburn file which I have setup for use with Ortur with the origin in the left/front.
I have a problem which shows up when I start Lightburn and it's defaulted to my K40 which has the origin in the left/rear. The error is when I load the file it will show up inverted, then I switch to my Ortur device and the image flips correctly except for the curved words "I Give In To" at the top of the design.
Just want to know if it shows up on Lightburn versions for platforms other than Linux. Thanks.
IGiveIntobeer.lbrn2 (109.7 KB)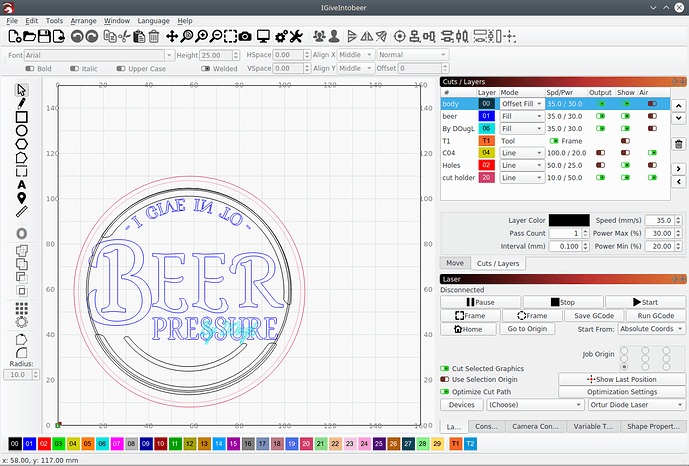 Reproduce:
1- Starting Lightburn and it defaults to a device with a different origin(left/rear) than attached file(left/front).
2- Load the file and it'll show inverted in Lightburn.
3- Select a device with an origin set to left/front, Ortur Laser Master in my case.
4- The design will properly orient itself except for the upper text "I Give In To" will remain inverted. See picture above.
note: If I open Lightburn, set the device and then load the file, the design is completely oriented properly.