Among my cutting boards I don't have a tall and skinny one. As a guy who cuts lots of sausage, cucumbers, carrots, celery, etc I want to add one to the mix and my preference in this instance is plastic. Specifically HDPE which is millable, food-safe, machine washable … and inexpensive if you buy scrap at San Diego Plastics.
On a bike ride today I stopped in to check their scrap inventory. If you want good deals then you need to do this periodically since who knows what they'll have in their scrap bins. Today I found an abundance of materials but not much color, aside from this beautiful piece of dark red acrylic.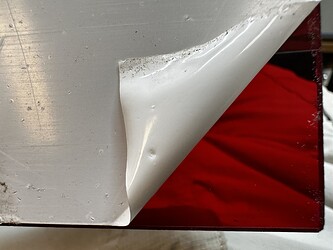 HDPE was there in various marine colors and white and in thicknesses up to 1.0". I picked up some 0.75" to build some epoxy molds and picked up the piece below for a cutting board. Cost for that board? $8, at $4/pound that's such a deal!